Report Volante Motor Tour 2015
Note; the post below has been translated with Google Translate.
Saturday June 13th, 2015 we had another one, a Volante Motor ride. This has been # 3 since we started it and, unlike the previous editions, this time the weather was fantastic during the ride.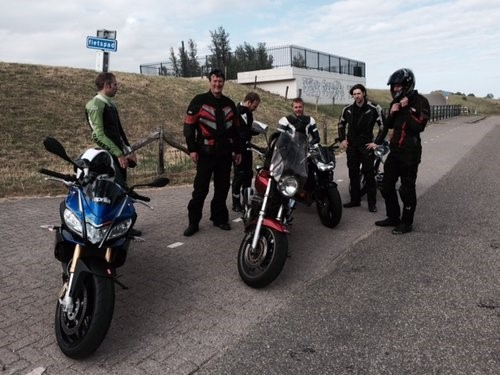 You only had to get to Dordrecht dry before leaving. The latter was not successful. From Apeldoorn to Utrecht I had heavy rain, from Utrecht it was fairly dry and in Dordrecht my Rukka suit was dry again. Quite nice if you have your stuff done.
Co-Volante bikers Ruud and Arie had given the signal that we had to ride a motorbike in the west once and had now taken care of the route to be driven. Basically the route ran from Dordrecht to Breda, so about 30 km. However, if you put a little effort into it, you can also turn it into 220 km with a succession of beautiful dyke roads, nice villages and real Dutch must-sees such as Kinderdijk. (Can I finally cross it off?)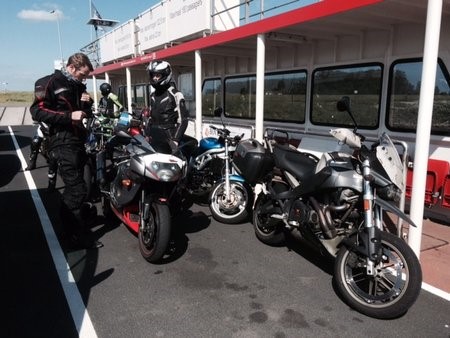 Of the ten original registrations, seven were left that day, a great group format to ride such a ride. After we all had a look at the fun and uncluttered Carel Wüst museum, we set off around 13:15 hrs. The route mainly ran via the Lek, the Linge, the Maas, the Waal, a piece of Merwede and some more of that water in that region. All beautiful places, but with many speed limits of 30 km / h and 60 km / h. You could notice that a number of (racing) engines and their drivers were not entirely made for this, but they still behaved nicely.
At restaurant De Lingehoeve in Oosterwijk we took care of the inner biker and the common denominator was definitely the homemade apple pie. If you are in the area this is definitely recommended! After we had crossed the Waal via the ferry to Brakel, the route set course for 's-Hertogenbosch to drive along the Maas in the direction of De Biesbosch.
The Biesbosch is unfortunately not visible from the dike road on the south side, so a stop is inserted to be able to look over the dike and what do you see? Exactly, water, water and some islands.
From this point we decide to shorten the route and set course for Oosterhout where a part of the group ends in a restaurant. All in all a nice day with a nice route, fantastic weather, good company and again a few typical Dutch must-sees that we can strip off the list. Entirely right.
All photos can be viewed below and also in photo album on our Facebook page.
On behalf of the Board; Hans, Arie and Ruud thanks for the organization!
Photos Motor Tour 2015