Report Volante Kart Cup 2016
Note; the post below has been translated with Google Translate.
On Saturday September 17th, Volante organized the third edition of the Kart Cup. Once again Circuit Bark Berghem was the location for the competition.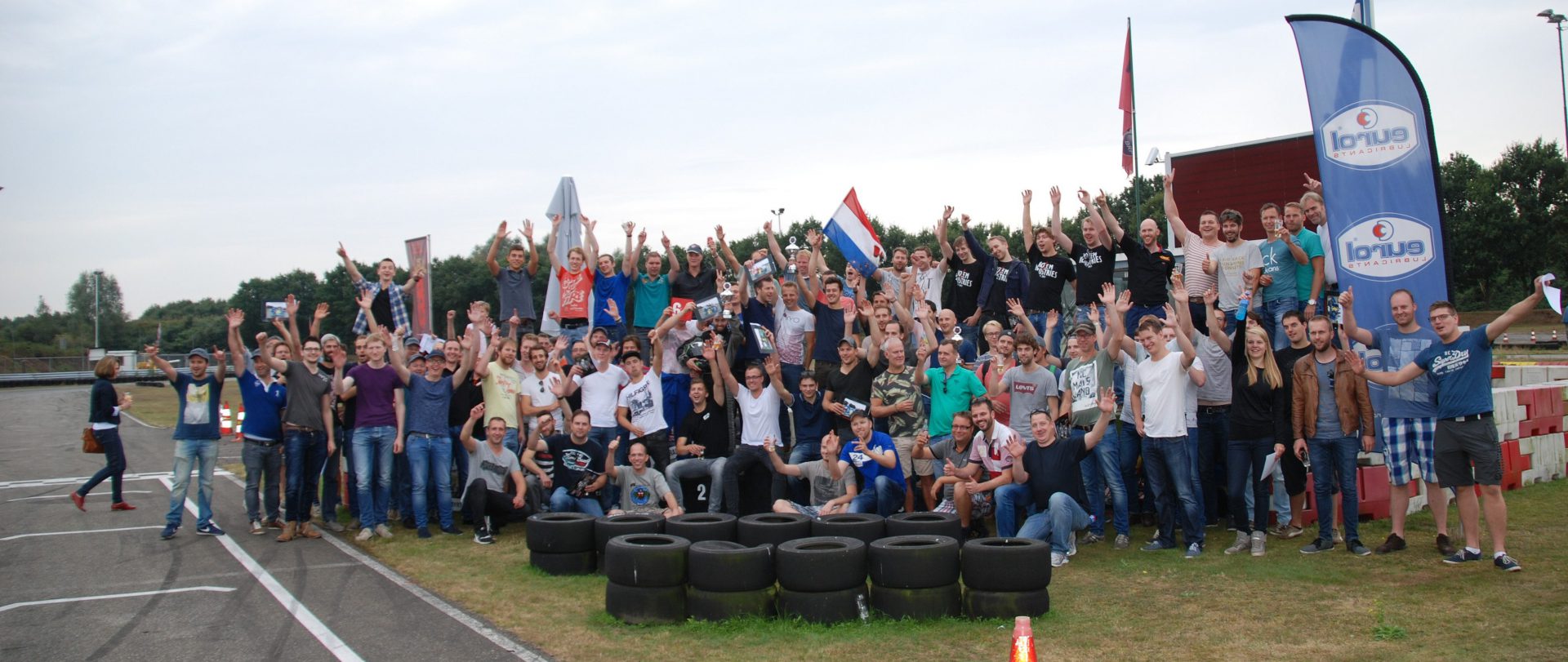 On September 17th, all 97 participants, divided over 28 teams at the Circuit Park Berghem near Oss in Noord-Brabant, arrived between 12:00 and 13:00 hours. Most participants had already participated before and the expectations for these teams were therefore high. Among the participants were 2 sponsor teams, 1 from Yacht Engineering and 1 from Heiwegen consultancy.
After the briefing, which started exactly at 1:00 PM, a beautiful team photo was first made. After that, the qualifiers were fought for the best starting places. As there was a 2-hour race after qualifying, it turned out that the starting places that had just been reached really matter.
Soon the men were separated from the boys, without us being too short of the only female participant. In the front a fanatic fight arose, in which regular head positions were exchanged. The driver changes were smooth in all cases. Only one time a penalty was awarded in connection with "speeding in the pitlane". Heavy crashes also remained happy, although at the end of the straight one time went well wrong and the leading team Peperoni became the victim of a touch between three teams, which put the chances of victory for this team in the water.
Around 4:00 PM the race was flagged down in dry conditions and after most participants had stored their race overalls and helmets, the beer flowed abundantly. There was also a delicious bag of chips for everyone. There appeared to be enough dust to talk about, because Erna of the Circuit Park had the greatest difficulty getting all participants to the middle ground to be able to do the prize-giving ceremony. After a lot of calculations, the top 3 consisted of:
Mitsubishi Turbo Turbine (Lex, Koen, Robert, Niek)
WOBLE racing team (Tom, Luuk, Erik, Menno)
Mitsubishi Turbo Compressor (Alef, Vincent, Jaco, Alex)
The fastest lap was 1.01.820 sec. clocked by the Crash kings, student team consisting of Jelle and Michiel. Unfortunately, due to material problems, they lost sight of a good final ranking
Teams from Mitsubishi Turbocharger and Engine Europe have therefore delivered an excellent performance! Congratulations to the winning teams.
All results can be downloaded below:
The question to the participants whether they would be back again next year, was answered with the resounding "yes!" In all cases. See you next year, dear kart friends. On to the 100 participants!

You can view the photos below and in the photo album on our Facebook page. There is also a film impression on our Facebookpagina
A response from team The Gentlemen:
"We have been very entertained again, thanks for the nice day and good organization, also for the other people involved."
Photos Kart Cup 2016

The Volante Kart Cup 2016 was made possible by the following sponsors: