Report ALV and autumn event Tachyon
Note; the post below has been translated with Google Translate.
The Volante association year ends in October. The time to give account to the members. As usual in recent years, we have combined with a company visit again. We were a guest at Tachyon in Soest.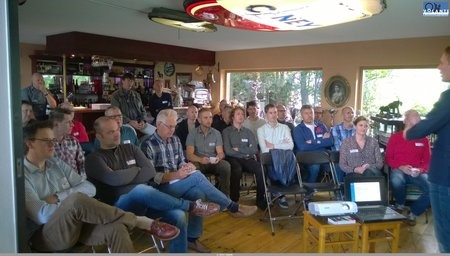 In total just over 30 members and some guests went to Soest on 3 October. During the annual meeting in which the board explained the activities of the past year and the plans for the coming year, Robert Jan de Bree was elected to the board to perform the function of chairman of the PR committee in the coming years. The slides of the board meeting and the minutes can be viewed below.

After the annual meeting, Maarten Buitenhuis of Tachyon Motorsport, Tachyon Engineering and Hydrotest Systems took the floor and guided us through his company.
Maarten, who graduated from the HTS Automotive in 1998, talked passionately about his career which, during the training, started with an internship at Cavalino Engineering and internship / graduation at Vege in Tunisia and then continued with Peter van Erp at Cavalino and later Spyker Squadron. Finally, Tachyon Motorsport resulted in the preparation of classic American racing cars according to FIA specs. There are still a large number of vehicles in the company that have been worked on over time.
By downsizing street cars, Maarten came up with the idea that this could also happen in racing, and he started to engineer turbos. In the end, racing was not the market he had hoped for, but the turbo work turned out to be attractive for small series such as the McLaren P1 for which small series of turbochargers were built with parts from MTEE. Maarten showed us his production line and explained how he works.
The youngest lead on the Tachyon strain is Hydrotest Systems, an old company from Soest that was acquired last year. The company specializes in making double-walled diesel injection lines for shipping. A completely different branch of sport but interesting to hear and see how this is being tackled.
After the guided tour with extensive explanation, the successful day ended with networking while enjoying a snack and a drink.
Maarten thanks for the hospitality!!
Photos ALV and autumn event Tachyon