Report 1st Volante Motor Tour 2014
Note; the post below has been translated with Google Translate.
Volante organized a motorbike tour for Volante members and 4th-year students of HAN Automotive. In this way, the 4th-year students were given the opportunity to become acquainted with Volante and to build their network.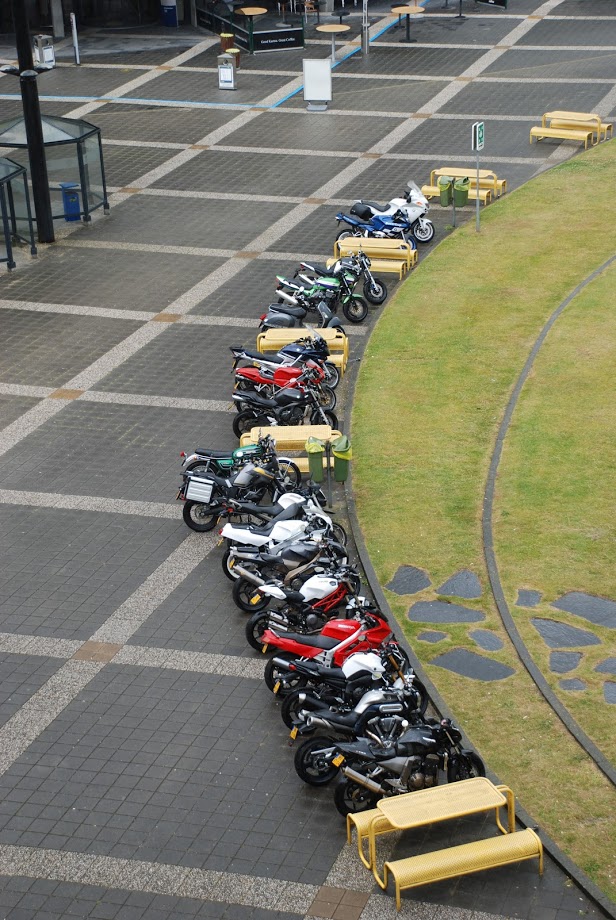 When starting up Volante, we already had a whole list of ideas for activities that we could undertake with the Alumni members. A motorcycle tour was also one of them. In recent years it turned out that we had already lost so much time and energy in the organization of 2 large annual events and a number of company visits that we saw no space for these types of fun, low-threshold activities that might also appeal to a completely different target group. As a former Volante board member there was probably the suspicion that I now had plenty of time left and I was asked to participate in the organization of the motorcycle tour. After almost 6 years of Volante, the time had finally come. This apparently did not go unnoticed in the country, given that even motorbikes were present at the first Volante Motorbike Tour.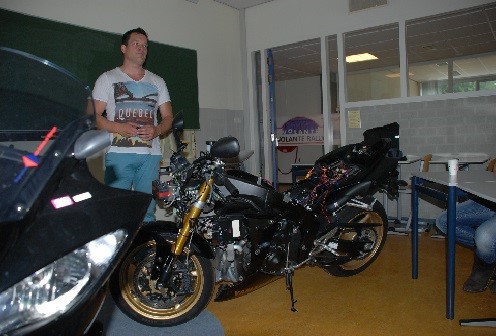 Including the guidance from Volante we had about 20 motorcyclists on the list, a nice number for such a first Volante Motorbike Tour (VM). The day started nicely, but posed a lot of threat from the south. No not the Red Devils, just heavy showers. Around 11:30 a.m. some of the participants had already had some wetness. Apart from a small number of cancellations (all with a valid reason, at least for themselves), the group, with a few graduates who spontaneously decided, after word of mouth, to participate after Sander de Goede of HAN Motomotive started his presentation. I say; character, men with hair on their teeth.
Sander spoke passionately about the Motomotive trajectory within HAN and the projects that have emerged and are yet to come. Given that this process once started with Sander's graduation project, "Motorcycle and driver model design and validation" which has now resulted in a job for him at HAN you can talk about a self-fulfilling prophecy. Those are beautiful and good things!
Sander's story is very technical from time to time. So we get to hear a few things about:
Vehicle dynamics

Steering characteristic?
Crankshaft influence?
Influence wheels?
Lean angle?
Chatter

Control
Drive
It is clear that part of the room is filled with former students who know this material and part not (including the undersigned). For a number of questions from the audience, he therefore answers with the question again whether the questioner of the batch is from before or after 2007. Okay, point tasks! It is nice to hear that more and more students are registering for these projects and are also achieving positive results.
The presentation was concluded with a film of the motorcycle on the road simulator, with almost every part ever coming in its own frequency. For those who love to watch it again on Youtube . The set-up for the attachment of the motorcycle has been developed by a group of second-year students.
Sander also lives up to his promise and keeps talking until the rain radar indicates that we can drive away dry.
The presentation of Sander can be viewed below:
The route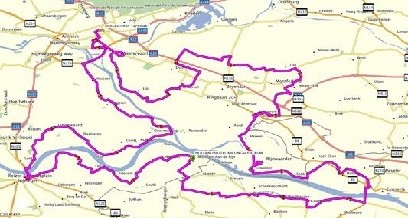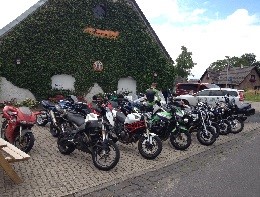 The trip that we drove that day brought us back to Arnhem in a circle along the rivers via Lobith, a piece of Germany and Nijmegen. There was still some uneasiness with the different navigation systems, the corresponding maps and individual navigation settings in the systems. We split the group in two, so we didn't have to wait too much for each other along the way. Unfortunately it started to rain shortly after departure until just before the point where we drove into Germany. The coffee break was inserted after we just crossed the Rhine in Germany and we discovered on the spot that not only the gasoline in Germany is cheaper, but also the terraces. The stock of apple pie was not sufficient for our group and part had to switch to himbeerentaart and the like. Also tasty!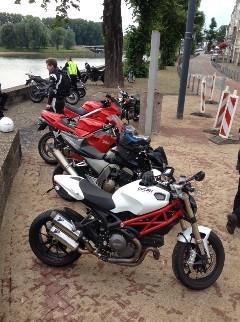 We have followed the dikes almost to the maximum this day and have driven through very beautiful places. Of course we have behaved nicely and have not contributed to the bad name that motorcyclists can have when they drive over dikes. All in all a wonderful ride with (for many) nice surprises such as the way you enter Nijmegen via the Ooijpolder or the dike that leads you from Bemmel (via Gendt and Doornenburg) to Huissen.
Upon arrival at the Rijnkade in Arnhem, a few men had already said goodbye, but the rest agreed that it was a nice ride and definitely worth repeating. The combination with driving and an information session is good, but a little more time was allowed to 'talk about' with each other. All good comments that we will take with us for the next Volante Motorbike tour. We probably want to organize that in September. Suggestions for a route and / or location that we can view are welcome!
Thanks everyone.
Hans Vosbeek
You can view the photos below or via the Facebook photo album.


Photos 1st Motor Tour 2014