Report Volante Kart Cup 2015
Note; the post below has been translated with Google Translate.
The race for the Volante kart Cup 2015 has been very exciting again. With some rain at the end, a top event with excitement and sensation.

On Saturday September 12th it was that time again. The second Volante Kart Challenge started. The backdrop was once again the beautiful go-kart track in Berghem. This year, with 27 teams, the group was slightly larger than in the first edition.
The day started with plenty of sunshine during the registration as the participants slowly trickled in.
After everyone was registered and changed we started the briefing with a little delay. After the briefing it was time for the real thing, the participants were allowed on the track to get used to the kart and track. Of course, a good time had to be set in order to conquer a good starting position.
Around 2:15 pm the time was there, the start of the endurance race. Everyone started the race in good spirits. In total, more than 100 laps were driven. At the end of the race it only became really exciting when it started to drip slowly. Within a few minutes this turned into a real rain shower which made the situation really challenging for the drivers. This made the differences on the track somewhat larger. The rain has delivered very nice pictures. After 2 hours the finish flag was waved with the following result:
Team Healey led by Peter Rijkoort
Crash Test Dummies 2.0 led by Roel Mangnus
Team Ramrod with team captain Daan de Nie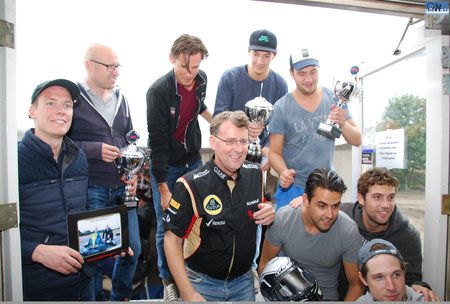 At the end of the day there was, of course, another opportunity for networking with a drink where the prizes were also awarded to the top 3, the team that drove the fastest lap, team Healey (new Volante lap record 1: 01: 792) and a incentive prize for team Two sparks short of ignition.
A special thanks goes to the organization of the circuit at Berghem CPBsince everything was arranged to perfection. There were snacks and small bags of fries during the race to provide the participants with sufficient energy. Our Sponsors YACHT and DETECH also deserve a thank you for making this successful day possible.
The only challenge left is to continue the success of this event and make the starting field bigger again next year. Given all the positive responses from this year's participants, that should be alright.
Pictures of the event can be viewed below!

Reactions from participants:
Team Ramrod: "On behalf of the Ramrod team, I want to thank you very much for the great day yesterday! The organization and atmosphere were excellent. We enjoyed it very much! Thanks again and we know for sure until the next edition!"
Team Red Beer Racing: "It was a very nice day Saturday, all arranged well. Will be there again next year."
Team JOB ONE Racing: "Thank you again for the very successful Volante Kart Cup last week. My team members and I have had a great time and we will definitely be there again next year!"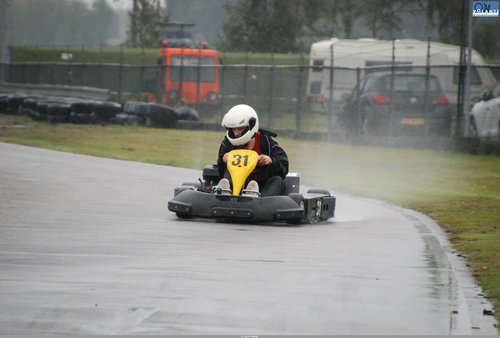 Team Mitsubishi Turbo wrote for the company newsletter of MTEE: "On Saturday 12 September, the 2 hour endurance kart competition was organized for the 2nd time by Volante, the Alumni Association of HTS Car Technology in Arnhem. The intention of this competition is (besides wanting to win) to bring the (former) students of HTS Car Engineering together in order to maintain relationships.The Automotive world is, after all, a small world is often said.
In the MTEE Engineering department, the HTS Autotechniek Arnhem is the main supplier of employees and so there should be enough enthusiasm to be able to participate in this Kart competition. However, this proved to be more difficult than expected, but in the end Team Mitsubishi Turbo participated with: Alex Stormink, Bram Ernst, Dominick van Zeijl and Lex Winder. Dominick was a strange duck in this because he comes from the HTS Rotterdam.
Last year a 7th position was the final classification and for this year the expectations were high and the aim was at least a podium place.
The qualification went reasonably well and a 7th starting place was the end result. This should offer good hope for the race. After qualifying, however, it turned out that the bumper of our kart was loose and was only attached to the kart itself with 1 bolt. The race management therefore asked us to change kart. Alex would start the race and had a problem right from the start because the driver stopped on the grid in front of him. This took a few places but it got much worse when Alex first came up the straight. He was just passed by other karts on the right.
As it turned out, the new kart turned out to be 2.5 seconds per lap slower than our qualifying kart. A new strategy was quickly looked at from the pit lane, but immediately changing kart would result in too much loss of time and so it was decided that as soon as the pit lane was open for the obligatory tank stop, Alex was brought in and changed from Kart. The new kart was fortunately a lot faster because Dominick continued the race with lap times that were equal to the top 3 of the race at that time. Slowly team Mitsubishi Turbo climbed up again and when Bram had taken over the wheel from Dominick team Mitsubishi Turbo was already in 6th position. However, with 40 minutes to go, dark clouds came over the circuit and the light began to drip. When Lex took over the wheel, it was still possible to drive full throttle, but after a few laps the full rain came down and the driver's instinct had to be driven completely. Many slides were the result, but Lex managed to keep the kart on the track. His lap times, however, were not enough to hold on to the 5th position that Bram had managed to achieve and a 6th place was ultimately the result at the finish. Afterwards there was the opportunity for a snack and a drink and to socialize with (former) students.
Next year I expect Team Mitsubishi Turbo to be back at the start and who knows with more teams because the more teams the greater the chance of a victory … "
Photos Volante Kart Cup 2015

The Volante Kart Cup 2015 was made possible by: